As a leading provider of innovative storage solutions, we are proud to introduce Merivobox, a versatile and reliable box system that is designed to meet the needs of modern living.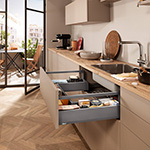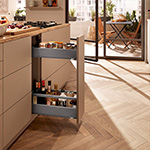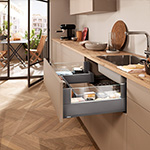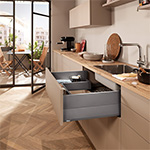 Features and Benefits
Superior Quality: Merivobox is made with high-quality materials that ensure long-lasting durability and reliable performance. The system is designed to withstand heavy use and can hold up to 70 kg per box.
Versatility: With its flexible design, Merivobox can be configured to meet a wide range of storage needs. The system is compatible with a range of accessories, including dividers and trays, allowing you to create a customized storage solution that is tailored to your unique needs.
Easy Installation: Merivobox is easy to install and can be customized to fit any space. The system is designed to be easily adjustable, making it perfect for use in a range of settings, including kitchens, bedrooms, and offices.
Innovative Design: Merivobox features an innovative design that allows for easy access to your stored items. The system is equipped with a soft-closing mechanism that ensures quiet and smooth operation, while the integrated handle allows for easy opening and closing.
Applications
Merivobox is perfect for a range of applications, including: kitchen storage, bedroom storage,office storage