The kitchen is the heart of the home, but it can quickly become a cluttered and disorganised mess without proper storage solutions. Keeping your kitchen organised is essential for efficiency and functionality, making cooking and meal prep a breeze. In this blog post, we'll explore some of the best ideas for kitchen storage and organisation to help you keep your space tidy and clutter-free.
Use Drawer Dividers
Drawers are an excellent storage option in the kitchen, but they can quickly become a jumbled mess if you're not careful. Using drawer dividers can help you keep everything organised and in its place. You can find dividers specifically designed for utensils, baking sheets, and even spices.
Install Pull-Out Shelves
If you have deep cabinets or hard-to-reach spaces, pull-out shelves can be a lifesaver. These shelves allow you to easily access items in the back of your cabinets without having to dig through everything in front. They can be installed in lower cabinets, pantry closets, and even under your sink.
Install the iMove 
The Kessebohmer imove range is a revolutionary storage solution designed to provide convenience, accessibility, and functionality. With its innovative design, the imove range offers a new level of convenience, allowing you to easily access your items without any hassle. This range of storage solutions includes pull-out shelves, drawers, and baskets, all designed to make your life easier.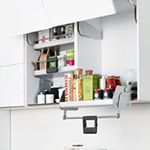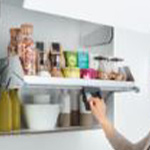 Install a Magic Corner, Le Mans or a carousal. Theses are  rotating shelfs that can be installed in your cabinets or on your countertop. It's an excellent way to maximize storage space and make everything easily accessible.