Kesseböhmer Storage Products: Maximising Space and Organisation
Introduction
In today's fast-paced world, efficient storage solutions are essential for maintaining an organised and functional living space. Kesseböhmer is a leading provider of innovative storage products designed to optimise space utilisation in various areas of the home, including kitchens, bathrooms, dressing rooms, shelving systems, utility rooms, and more. In this blog post, we will explore Kesseböhmer's range of individual storage solutions, highlighting their key features, benefits, and how to implement them effectively.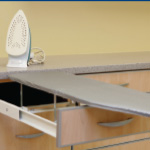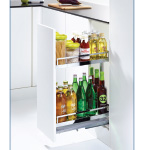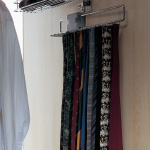 Kesseböhmer Storage Solutions
Kitchen Storage Solutions
Kesseböhmer offers a wide range of sophisticated and elegant storage space solutions for kitchens. These solutions include:
Larder Pull-Outs: Maximise pantry storage with pull-out shelves and baskets that provide easy access to stored items. Organise your groceries and kitchen essentials efficiently, using the dispensa TANDEM, the dispensa TANDEM Depot, or the TANDEM Solo. These storage solutions offer you more storage space, better storage organisation possibilities and better access.
Rail Systems: Utilise wall space effectively by installing rail systems with adjustable hooks and holders. Hang utensils, pots, and pans for quick and convenient access.
Corner Cabinet Solutions: Make the most of corner cabinet space with rotating shelves or pull-out carousels. Optimise storage and prevent items from getting lost in the back of the cabinet. Try using the Lemans corner unit solution, or the Magic Corner. LeMans II is the only kitchen corner unit solution that combines very high space utilisation with outstanding access. No wonder, because LeMans trays swing right out in front of the kitchen cabinet. The trays move independently of each other bringing the entire kitchen cabinet contents into easy reach. You can store a lot of pots and pans – and each one is always in easy reach.
Drawer Inserts: Keep your cutlery, utensils, and small kitchen accessories neatly organised using customizable drawer inserts. Separate items by category for effortless organisation.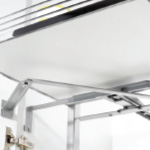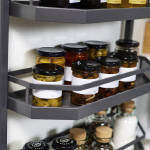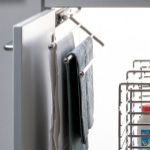 Dressing Room Organisation
Kesseböhmer range offers comprehensive solutions for dressing rooms. Some key products include:
Wardrobe rails: Utilise vertical space efficiently by installing wardrobe lifts that lower and raise clothing racks with ease. Access your wardrobe without straining or reaching.
Tie Organisers: Keep your ties organised and wrinkle-free with specialised tie organisers. These compact storage solutions allow you to display and select your ties effortlessly.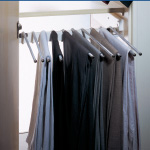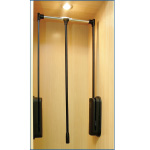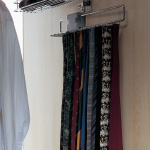 Storage Ideas
Enhance your storage functionality and aesthetics with Kesseböhmer's storage solutions. Consider the following ideas:
Pull out towel rails:  Its robust design ensures durability
Wine Racks: Simple and easy fitting for 150mm or 300mm cabinets
Concealed ironing board, which can fit behind a standard drawer front and is suitable for 400-500mm units
Topflex Pull Out table- fits behind drawer front and suitable for 450mm-900mm cabinets and has a 30 kg capacity
Pull out for bedroom storage, shoes and other items.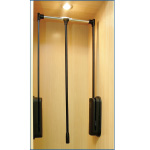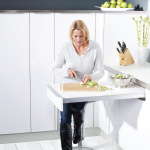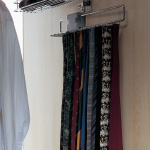 Choosing the Right Solution
Assess your storage needs: Identify the specific storage challenges you want to address in your kitchen, bathroom, dressing room, or other areas of your home.
Consider available space: Measure the available space and determine the dimensions and layout constraints that may impact your storage solution.
Review Kesseböhmer's product catalog: Explore the Kesseböhmer accessories brochure  to get detailed information and visual references for each product, or visit or showroom.
Installation and Configuration
Follow the product instructions: Each Kesseböhmer storage product comes with detailed installation instructions. Adhere to these guidelines to ensure proper installation and functionality.
Seek professional assistance if needed: For complex installations or if you lack experience in DIY projects, consider hiring a professional installer to ensure optimal results.
Customise the configuration: Adjust shelves, inserts, and components according to your specific storage requirements. Take advantage of the flexibility offered by Kesseböhmer's products.
Maintenance and Care
Clean regularly: Regularly clean the storage products using mild soap and water. Avoid abrasive cleaners that may damage the finishes.
Inspect for wear and tear: Periodically check the products for for wear and tear.